Finnish Sports Journalists' Association has chosen the best athletes of the year in different sports since 1946. This is the first time they chose the best agility athlete as well. And that person is none other than inventor of the OneMind Dogs method, Janita Leinonen!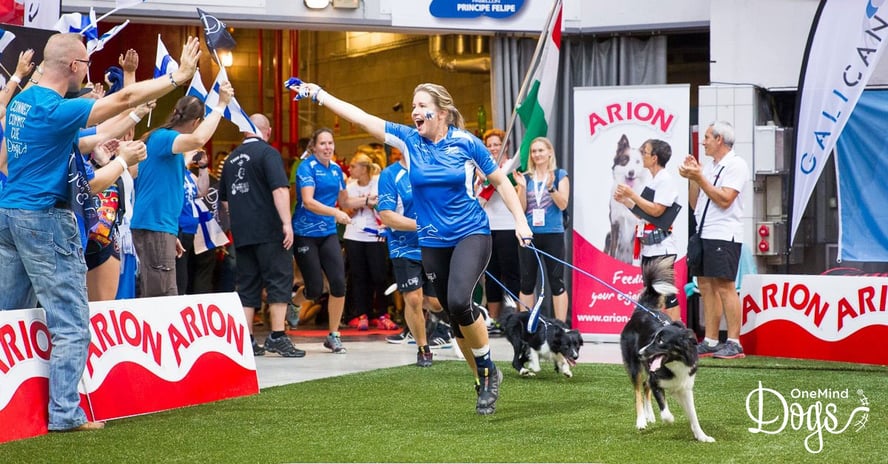 Picture: Jukka Pätynen/koirakuvat.fi
"What an honour to be in the same list with Valtteri Bottas (F1 driver), Lauri Markkanen (NBA basketball) and Teemu Pukki (Premier League soccer).", Janita rejoices. "Thank you Jessi Landen, who worked hard to get agility accepted on this list! It makes me humble and speechless to have an honour to get the first Agility Athlete of the year - title. Thank you everyone for your greetings."
To us, it was obvious who deserves the first ever Agility Athlete of the Year 2019 title. Janita has represented Finland on the international agility arenas for 15 years in a row. She's participated in the FCI Agility World Championships, European Open, World Agility Open, IFCS World Agility Championships, Border Collie Classic and Nordic Agility Championships numerous times in the past 15 years.
This year Janita attended the FCI Agility World Championships for the last time as she announced her retirement from the international stage. We will still get to enjoy her competition runs and phenomenal coaching in Finland - and obviously around the world in the form of OneMind Dogs online service!
Record breaking team
Janita currently competes with Border Collie Fu whom she calls as her soul mate. Janita and Fu have already filled up three results books. That means that they've done more than 500 Q's in trials during their career!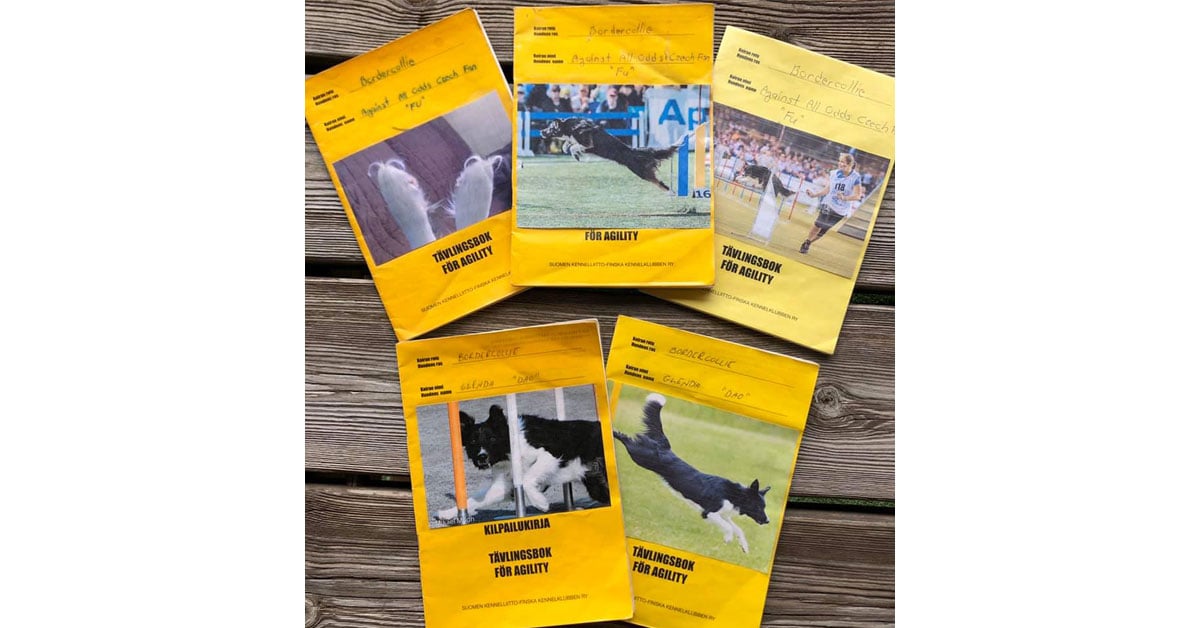 "Thank you for my lovely dogs Cosmo, Hitti, Fu (and Omie, a loan dog for AWC, EO and Nordics in 2010) for making all these experiences possible. If I could have chosen any dog from a starting list to run with, it has always been just those dogs I had chosen beside me", Janita says sentimentally.
What's the secret to Janita's success?
"After 2003 I have learned something new about dogs, their point of view in agility, our handling or mental training EVERY YEAR. Learning is fun and keeps me motivated year after year. I hope I'll never be ready and learning new aspects continues! Thank you to our best agility instructors, our dogs", Janita says.
Janita is a very determined and ambitious agility competitor. She has trained all her dogs to compete successfully at the international top level, and has won hundreds of competitions with several different dogs.
As an instructor she demonstrates everything for her students to learn and develop – that's her passion. She will do everything to find the best solutions for each individual student. Janita wants to help handlers learn to understand their dogs so well that they can achieve the best possible results in an agility course. Ultimately she wants to improve the wellbeing of dogs through spreading the word of the natural, dog-friendly OneMind Dogs method and encouraging the dog owners to spend time with their dog.
Watch Janita's seminars online!
Our International Training Week series gives you a ringside seat with Leading OneMind Dogs Coaches Janita Leinonen, Jaakko Suoknuuti and Tuulia Liuhto. You can watch their lessons anywhere at any time!
International Training Week contains over 140 online seminar episodes covering a wide variety of topics, allowing you to explore the OneMind Dogs method in many different contexts. This is the easiest way for you to start learning the dog's point of view with Janita right now!
In fact, we'll give you a 40% discount on the Agility Premium membership in Janita's honor! Get the 6 months recurring subscriptions and save 40% for the first 6 months.
Valid until January 31, 2020.
Learning really is infinite. If you open your mind, you can learn new things from every experience you have with your dog. Developing a passion for learning will make continuous growth effortless and success boundlessly achievable.